USPTO Trademark Filing is the process through which an entity protects its brand design by preventing others from copying it. If you don't protect your brand properly, then anyone can steal or copy your design and confuse potential customers. You wouldn't want another organization to profit from your brand name by misusing it. In order to seek protection for your brand, you must file an application for a federal trademark with the USPTO. So it's crucial to understand the entire procedure of the USPTO Trademark Filing to secure protection in a seamless way.
So, this article will help you understand all the key points about the USPTO Trademark Filing procedure. We'll also be giving some bonus information to keep in mind while creating a trademark.
Scope of Trademark Protection
Before we explain the USPTO Trademark filing procedure, let's first understand the scope of coverage of a trademark. A trademark covers various types of elements that an entity typically uses for brand recognition. These elements include the following.
Name of the brand/product/service.
The phrase that the brand uses as a tagline.
A unique word that the brand associates its product/service with.
Any symbol that sets the brand apart in its domain.
A design that is the creation of the organization.
A device that an organization may create to set it apart in its domain of service.
However, you cannot just trademark anything. According to the government, the subject must be distinctive and it should set the brand apart such as a logo. So, choose your mark wisely and ensure that it stands out.
The USPTO Trademark Filing Procedure
Trademark Search
The very first step in the trademark filing procedure is conducting a trademark search. So, this is done primarily on the USPTO's Trademark Electronic Search System (TESS).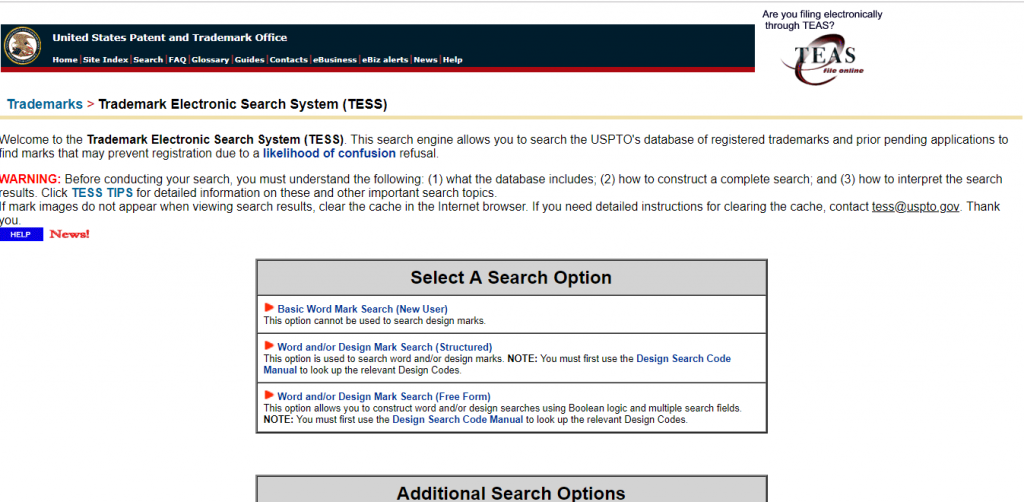 The USPTO will not register your trademark if it appears to be too similar to a pre-existing trademark.
You should also check your state's database if possible, to expand the scope of your search. This is because sometimes entities don't get a federal trademark but they protect their product/service through a common law trademark. A common law trademark doesn't require registration, and hence, it doesn't exist in the USPTO database but offers similar protection. Therefore, it's a good idea to perform an internet search for similar items in your domain to avoid any infringements.
Check for Potential Conflicts
After obtaining your search results from TESS, you should also check the status of any potentially conflicting application or registration. This can be done through the Trademark Status and Document Retrieval (TSDR) system.
After comprehending the entire situation, you should analyze whether it makes sense to seek registration.
Note: You should understand that once you file the application, you cannot cancel it. Also, the only way the application stops is if it doesn't meet the necessary requirements. There is no refund available either so you must be absolutely sure before filing the application.
USPTO Trademark Filing
Once you are sure of your mark's originality, you can go ahead with the filing procedure. So, you have to file the application online with the USPTO using the Trademark Electronic Application System (TEAS) portal. Moreover, you can choose from 3 applications to fill, as given below.
TEAS Plus
This form comes into play when you:
TEAS RF
Use this form when you:
Can communicate with the USPTO about your application via email and file forms through TEAS. 
Don't want to use the ID Manual or you don't possess the important information to complete all of the necessary fields in the TEAS Plus form.
TEAS Regular
This form comes into play when you:
Can't communicate with the USPTO through email about your application and file certain forms through TEAS, the online application system.
The ID Manual does not contain an accurate listing for your goods/services. 
Don't have the information needed to complete all of the required fields in the TEAS Plus form.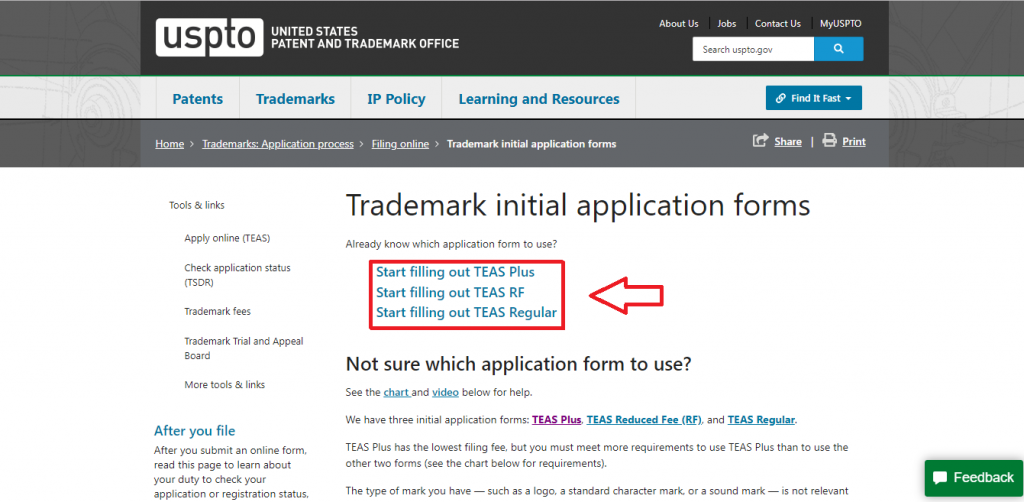 The filing process is pretty direct, but you need to provide an extensive amount of information. This information includes contact information like name, address, and phone number. These particulars are very important because the USPTO will utilize them to ask any questions that they have during the application process. There are other requirements like:
Classification of the type of items that will be attached to the mark
A replica of the mark, either in the form of a drawing or image
Image of goods with the design present, if applicable
Explanation as to why a trademark is necessary for the entity
Once all of the information is given, and the form filling is complete, you simply need to sign it and submit it.
Do's and Don'ts: Creating a trademark (Bonus Information)
DO's
Firstly, you can boost your trademark application by ensuring it has a strong, distinctive mark. For example, an amalgamation of two words that portray the product or explain the brand is unlikely to pre-exist.
Moreover, if you're trying to trademark a shape or logo design, render something uncommon, something that doesn't come in frequent use in everyday life.
Make at least 2 back up designs for whatever mark you create. Chances are, you may find a similar mark for your item while conducting the trademark search. So it is better to keep yourself ready with more ideas in the pipeline.
Consult professional help to be absolutely certain about your mark, right from the search to filing the application.
DON'Ts
Don't use generic identifiers as they won't make it through the approval process. For example, words of daily use like 'cars' are not a wise option. This is because it's already in use on a daily basis as a descriptor for a variety of companies. Such a mark would be impossible to enforce, so the USPTO is likely to reject it.
Ensure that your mark doesn't contain any of the following:
Offensive language or targets an individual/group
An individual's name or likeness
Exists as a movie or novel title
Uses a geographic description
Generic non-English term
Need Professional Assistance for USPTO Trademark Filing? – The Trademark Filing Company
Your brand name carries a lot of weight and importance to your company. Copycats can confuse customers and damage your brand. Therefore, it is absolutely crucial to secure the necessary protection to prevent that from happening. Moreover, you've already seen that the USPTO trademark filing process is not always the easiest of tasks. Therefore, if you wish to take professional aid, The Trademark Filing Company can help you. Thus, we focus on protecting your business identity from copycats. Further, our expertise lies in providing gold-standard trademark data and our team boasts years of experience in trademark filing. However, we don't stop there. You cannot worry about your trademark 24/7, so you can also use our trademark monitoring services.
To make an inquiry, visit us at The Trademark Filing Company.
Other Related Articles
Trademark Watch and its Significance