Trademark filing is used to register the mark actually used or proposed to be used by an individual claiming to be the proprietor of the trademark. This requires an initial search conduction to find out the trademark class. It helps in application filing. Also, the goods/services mark description are incorporated.
Type of Trademark filing Applications:
Both traditional and non-traditional marks registration application is accepted by the USPTO. Also, certification, non-visual marks, and collective marks are accepted.
Word Mark:
The wordmark must have all letters and words in Latin characters and all numbers in Roman or Arabic numerals. Mark may contain common punctuation or diacritical marks, but not design elements. Use simple letters or numbers of the mark.
Design Mark:
Use JPG format of the image with a scanning resolution of 300 to and 350 dots /inch having 250 and 944 pixels of length and width respectively. Lines used must be solid, clean, sharp, and should produce a high-quality image in case copied.
Color Mark
The applicant must submit valid proof in order to differentiate the mark. Colour marks are visual. Use them in color drawing . Additionally, it must have:
A color claim naming the colors which are mark features
A separate statement having the colour appearance
In the location statement and color claim, the general names of the colors must be used
Shape & Mark:
While choosing shape mark a complete description about the mark must be provided along with 3D- depiction of the mark. Also, incorporate a drawing showing 3D execution of the mark.
Sound Mark
An audio file in an appropriate electronic format (.wav, .wmv, .wma, .mp3, .mpg, or .avi format) having maximum size of 5MB should be submitted. A detailed description of the chosen sound mark must be provided by the applicant.
Scent or Flavor Mark
Under this, the applicant must prove particularity. Also, a complete written description about the scent, a specimen from which the scent or flavor belongs should be given. Additionally, a comprehensive description of the same must be provided.
Touch Mark
Under this, the used mark ought to be represented graphically.
Motion Mark
If your chosen mark is motion, you must submit a drawing depicting a single point in the movement or maximum of five freeze frames producing movement points. Additionally, submit a detailed description of the motion.
Collective Membership Mark
Members belonging to associations, or any other organization or group use this mark.
Certification Mark
A symbol, word, name, or device used via an individual other than its owner to certify regional or another origin, accuracy, material, or similar characteristics of services or goods of such individuals or the work on the services or goods was executed via union members or other organization.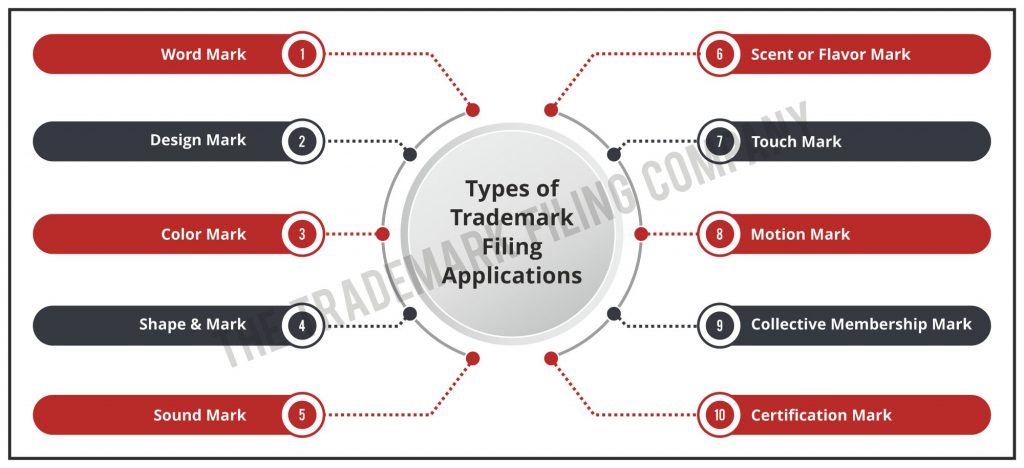 Filing Date Requirements
Filing date requires the name of the applicant, a name and address on which the USPTO will send correspondence. Additionally, design and other non-traditional marks must incorporate an accurate drawing of the same and list of products or services to be sold under the trademark. For applicants residing in foreign filing fee for at least one class of goods or services, a domestic representative designation is required. However, after filling additional fees for classes may be submitted.
Additional Requirements for Trademark Filing
Applicant information
Legal entity type, if the applicant is not an individual
Citizenship, or state or country of incorporation
The basis for filing
A statement with complete verification. An individual possessing direct knowledge about both actual and facts or expert (implied) to act on the part of the applicant can sign the application. Also, a person having legal access for binding the applicant or an attorney with actual verbal or written power from the applicant can sign the application.
Incorporate a complete description about the mark in case of marks apart from standard character word marks.
If required, English translation or transliteration of the non-English word must be done in the mark.
For additional classes, unpaid filing fees play a role.


What's next to Trademark filing?
Trademark filing is a cumbersome process which requires proper itinerary. Here are the major points an applicant or owner must know after his/her trademark filing.
After application filing, the USPTO will issue an official filing receipt. Within 14 days of filing, serial number and other relevant details of the application will be shown on the USPTO website.
After three or four months of trademark filing, the application will be examined. The USPTO examiner may object the registration if your mark found to create a likelihood of confusion with other marks among customers or your chosen mark is simply too descriptive about the goods or services which you have claimed.
Address the raised objection within a specified time period. Otherwise, it will lead to office action for each objection. Within six months of tenure from the application mailing date, the applicant must respond to the office action or the application will be discarded.
After resolving all the raised objections, the applicant can publish his/her mark in the Trademark Official Gazette and a publication notice showing publication date will be issued.
If any part feels that their mark will be harmed has the right to oppose the applicant's mark. Also, he/she may request for the extension of opposition time in 30 days of the publication date.
USPTO will issue a registration certificate under various sections if the application has no objection.
The applicant has 36 months of time from the date of Notice of Allowance for intent-to-use applications. It is an "allowance" period for the applicant to submit proof of use. Otherwise, it will result in application abandonment.
Every six months of the allowance period, a Statement of Use should be filed by the applicant or an extension request for time in order to file a Statement of Use showing bona fide for the use of the mark for the types of good or services in the application.
After statement acceptance, USPTO will issue the registration certificate.
Related Articles: Trademark Watch and Its significance
Time Period for an application to be mature
Normally, it takes around 12 months of time for registered mark issuance. It depends on electronically filed documents, a period of no objections and no opposition filing period.
Why Choose The Trademark Filing Company?
We have experienced experts with sound knowledge of the industry. The professionals believe in delivering risk-mitigated and optimized results to clients with quick turn-around time and no error. Use of effective analytical approach and upgraded methodologies ensure delivery of world-class trademark filing solution to clients. To know more about the pricing structure and other details please visit our home page. Alternatively, you can also approach us with your queries here to let us get back to you with the solution at the earliest.
Other Related Articles: Why do you need to do Trademark Monitoring?
All You Need To Know About Common Trademark Law